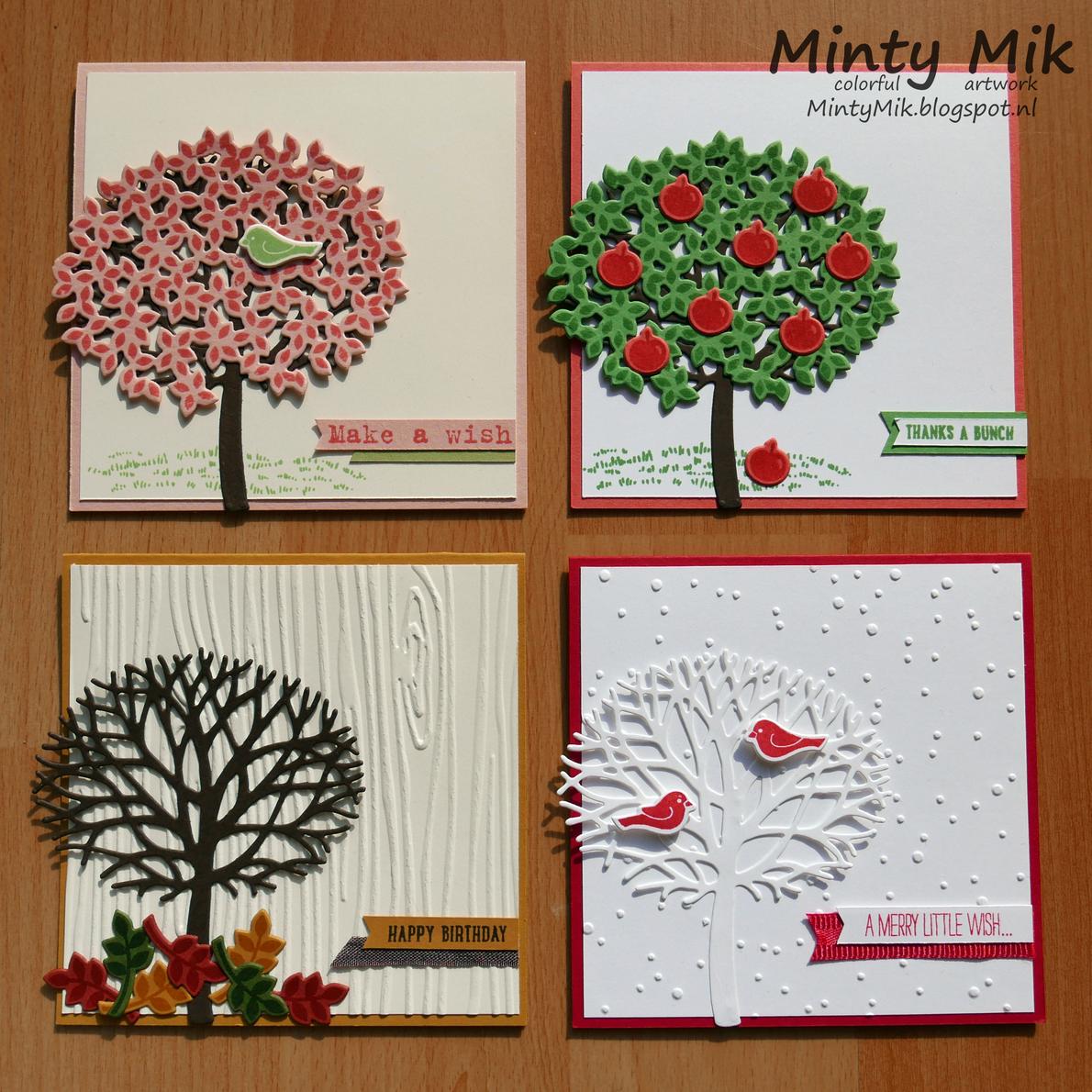 Met de Thoughtful Branches bundel kun je heel verschillende kaarten maken. Ik maakte er al een
kerstkaart en een kaart met blauwe druifjes
mee en ook op mijn
facebook pagina
liet ik al wat voorbeeldjes zien. Dit keer heb ik met de boom en blaadjes stans de vier seizoenen gemaakt.
Voor het lente kaartje stempelde in de blaadjes met Flirty Flamingo op Blushing Bride papier en het vogeltje en het gras met Pear Pizzazz op Very Vanilla cardstock. De boom is uit Early Espresso gestanst. De tekst komt uit de Party with Cake set.
Voor het zomer kaartje gebruikte ik de kleuren Cucumber Crush, Early Espresso, Watermelon Wonder en Whisper White. De tekst komt uit de Sprinkles of Life set.
Bij het herfst kaartje heb ik eerste de Very Vanilla achtergrond met de Woodgrain embossing folder door de big shot heen gehaald. De blaadjes zijn eerst gestempeld en daarna uitgestanst in de kleuren Cajun Craze, Delightful Dijon en Mossy Meadow. De boom is weer uit Early Espresso cardstock gestanst.
Bij het winter kaartje gebruikte ik maar twee kleuren: Real Red en Whisper White. De tekst komt uit de Festival of Trees stempelset en is helaas niet meer te verkrijgen maar in de nieuwe folder staan weer een heleboel leuke geschikte teksten.
Ik hoop dat je hebt genoten van mijn kaartjes. Wil je ze zelf maken? Woensdag 31 augustus geef ik nog een workshop met deze geweldige bundel. Dit is tevens de laatste dag dat je hem kan bestellen. Helaas is de Thoughtful Branches set na augustus niet meer verkrijgbaar.
Tot woensdag!
Marieke